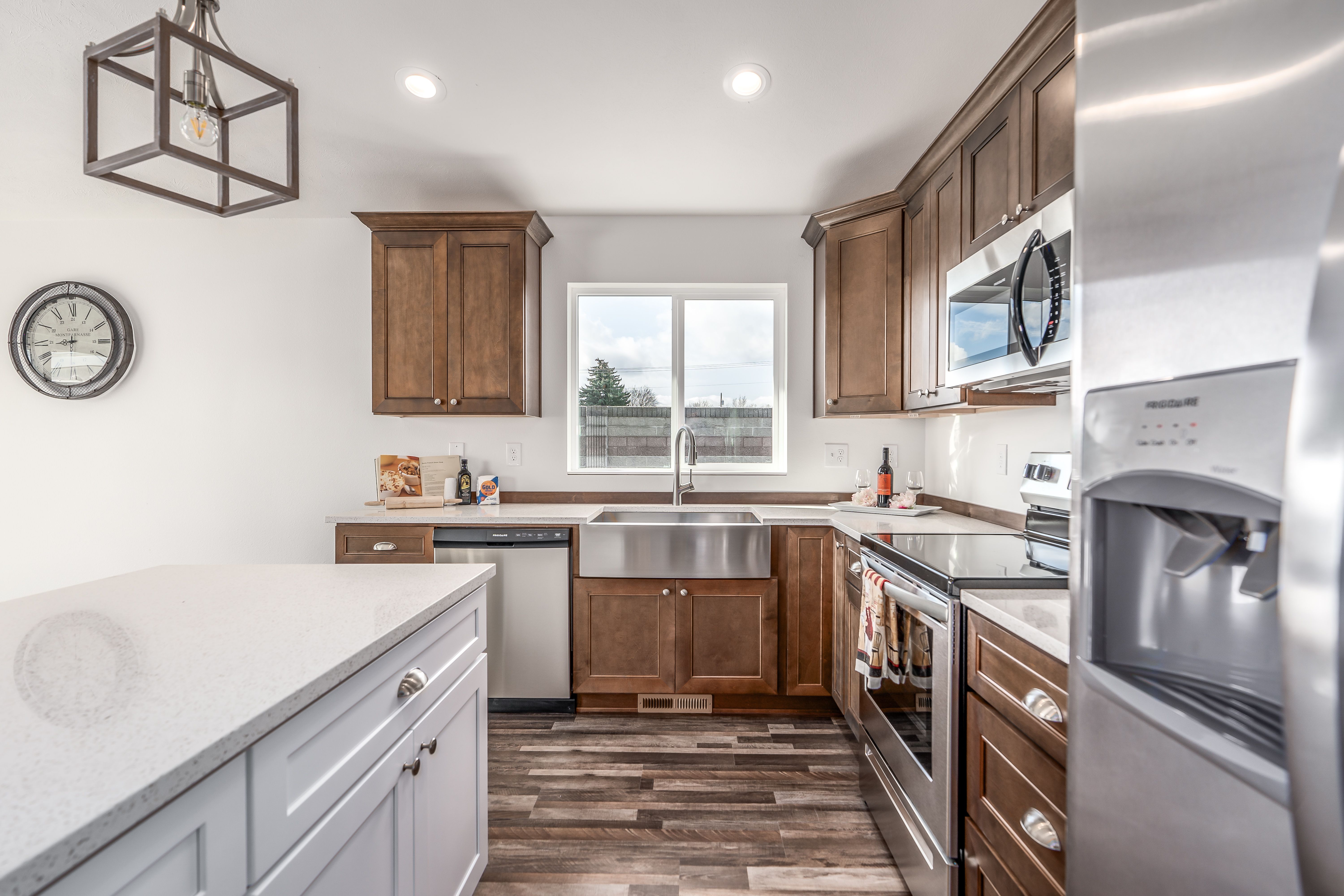 Introduction to Cabinets
In this learning experience, you'll gain insights on cabinet care and maintenance, explore diverse cabinet options, and discover the fascinating realm of kitchen shapes.
Care & Maintenance
Spills
Quickly clean up any spills, splashes, or water spots as soon as they happen to keep your cabinets dry.
Blot, don't rub: Use a clean, dry cloth to blot the spill, rather than rubbing it, which can spread the spill and cause damage to the finish.
Dry thoroughly: After cleaning, use a clean cloth to dry the surface thoroughly to avoid any water damage. It's a good idea to let the surface air dry completely before using it again.
Remember to quickly clean spills by blotting, and to dry thoroughly.
Cleaning
Give your cabinets a gentle clean every now and then with a soft cloth and some mild soap or detergent mixed with warm water.
Make sure to dry your cabinets thoroughly after cleaning with a soft cloth.
Don't use dishcloths or sponges that might have grease or detergent residue on them.
Steer clear of products with bleach, ammonia, or harsh chemicals like petroleum solvents.
No need to break out the scouring pads, steel wool, or harsh cleaning powders!
Keep oven cleaners away from your wooden finishes.
Be sure to clean your cabinets with gentle products such as a soft cloth and mild soap mixed with warm water.
General care
Try to avoid putting small appliances that give off heat close to your cabinets.
Don't hang damp cloths or dish towels over your cabinet doors – too much moisture can cause lasting damage.
Handle carefully: Avoid slamming or hitting cabinets, as this can cause damage to the wood or finish.
Apply a protective finish or wax to the cabinets to help protect them from scratches and fading.
Be gentle with your new cabinets! Don't slam or hit the cabinets and make sure to use products approved by the manufacturer for cleaning.
What's The Difference?
Ready To Assemble
If you're looking to update your kitchen, ready-to-assemble cabinets might be just what you need. They're easy to find at many chain home stores and offer a good selection of styles, sizes, and materials. Bonus: if you're handy with DIY projects, you can save some money by putting them together yourself. Just keep in mind that these cabinets may not have the longest lifespan, but they're still a great option for a budget-friendly kitchen refresh.
Stock
If you're looking for a budget-friendly option for your kitchen, you might want to check out stock cabinets. They're premade by the manufacturer and come in fixed sizes, so they're a great choice if you're on a tight budget. You'll find that they come in a variety of materials, such as particle board covered with plastic laminates or solid wood, spending on the brand. Just keep in mind that because they come in fixed sizes, they may not be the best choice for unique or irregularly shaped spaces.
Semi-Custom
If you're looking for a balance between cost and customization, semi-custom cabinets might be just what you need. With a wide range of styles and materials to choose from, you're sure to find the perfect fit for your kitchen. These cabinets also offer a bit more flexibility in terms of size, so you can make sue they'll fit just right in your space. Plus, the quality of construction is usually a step up from RTA and stock cabinets. And, unlike RTA and stock cabinets, the cost of semi-custom cabinets typically includes installation, making the process a little bit easier for you.
Custom
If you're looking for a truly unique and personalized touch for your kitchen, custom cabinets might be just what you're after. These cabinets are made just for you and offer endless options for style, material, finish and accessories. While they can be a bit pricier, than other options, the hand-built construction by skilled artisans is truly impressive and worth considering if you have the budget. With custom cabinets, you'll have a one-of-a-kind kitchen that you'll love for years to come.
Let's Talk About Kitchen Shapes
Galley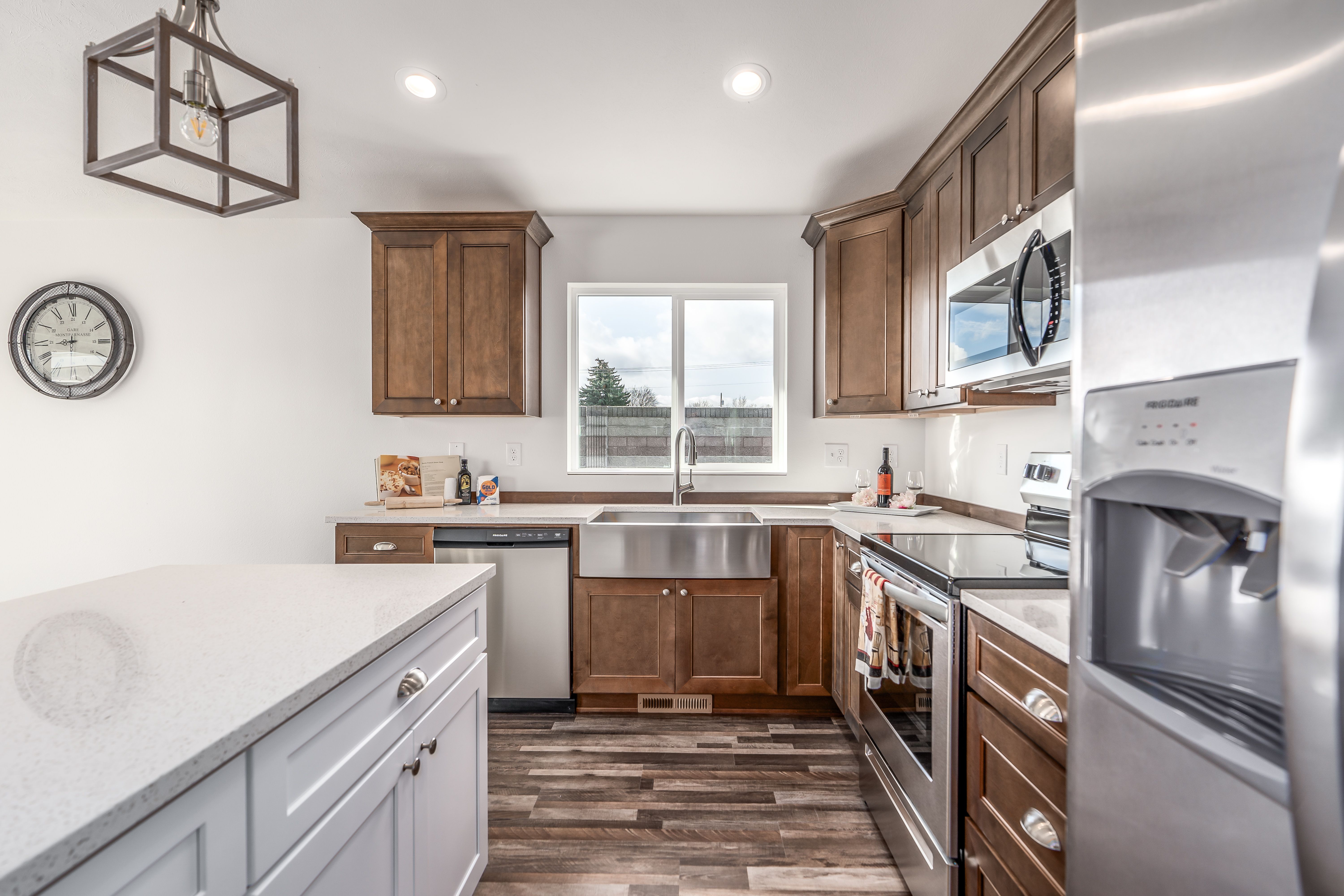 The name "galley kitchen" is derived from the kitchens on ships, in which two parallel countertops incorporate a free space in between. It is suitable for kitchen space which is narrow, long rather than wide.
Pros:
Efficient use of space: A galley kitchen utilizes every inch of space available, making it an ideal option for narrow and long spaces where every inch counts.
Easy to work in: With everything within reach, it's easy to move around and prepare meals in the kitchen.
Cons:
Limited space: The narrow and long shape of the galley kitchen can be limiting when it comes to storage and counter space. This can be challenging when you need to prepare large meals or host guests.
No room for an island: This layout does not accommodate an island, which is a popular feature in modern kitchen designs. Islands also provide additional counter space and storage.
L-Shaped
The L-shaped kitchen is a popular layout that consists of cabinets along two perpendicular walls, forming an L shape. This type of kitchen layout is ideal for both tiny and larger spaces, as it offers a lot of design flexibility and can be customized to suit your specific needs and preferences.
Pros:
Maximizes corner space: The L shape is ideal for utilizing corner space effectively, providing additional storage and countertop space that might otherwise go unused.
Offers design flexibility: With two walls to work with, L-shaped kitchens offer a lot of design flexibility. You can customize your layout to suit your specific needs, such as adding an island or breakfast bar.
Cons:
Can be more expensive: L-shaped kitchens can be more expensive than other layouts, as they often require more cabinets, countertops, and appliances.
Requires careful planning: To maximize the benefits of an L-shaped kitchen, careful planning is required to ensure that the layout is efficient and functional.
U-Shaped
If you have a larger kitchen space, the U-Shaped is probably the most practical and ideal layouts compare with a galley kitchen or L-Shaped kitchen. It's the perfect example of the "work triangle", thus it is regarded as the most efficient kitchen layout. You can easily move between your sink, cooktop and refrigerator.
Pros:
Provides ample storage and countertop space: The U shape offers plenty of cabinet and countertop space, making it ideal for those who need a lot of storage and workspace.
Offers plenty of room for multiple users: The U-shaped layout is ideal for larger families or those who enjoy entertaining, as it provides plenty of room for multiple users to work in the kitchen at the same time.
Cons:
Can be challenging to design: The U-shaped layout can be challenging to design, particularly if you need to incorporate multiple appliances or a large sink.
Can create dead space: The corners of the U-shaped layout can create dead space, which can be difficult to access and use effectively.
Island
A kitchen island is a freestanding combination of cabinet and countertop, which might be suitable for the one-wall, galley or L-Shaped Kitchen. Incorporating a kitchen island is useful in many ways, as a cooking area (beneficial for family members to cook together), as a washing area or as an interactive place where family members or guests to get together.
Pros:
Provides additional workspace: A kitchen island provides additional countertop space for meal prep, cooking, or baking, which can be particularly useful in smaller kitchens with limited counter space.
Offers storage space: Most kitchen islands have cabinets or drawers, providing additional storage space for kitchen essentials such as pots and pans, utensils, and small appliances.
Cons:
Takes up floor space: A kitchen island can take up valuable floor space, particularly in smaller kitchens, making it difficult to move around.
Requires careful planning: Adding a kitchen island requires careful planning to ensure that it's the right size and shape for your kitchen, and that it doesn't interfere with the flow of traffic.
We can help you!
At Cabinets Plus, we take pride in offering a wide selection of high-quality cabinets at competitive prices. Our expert team is committed to helping you find the perfect cabinets that align with your style, needs, and budget. Whether you're looking for ready-to-assemble, stock, semi-custom, or custom cabinets, we have a vast range of options to choose from. With our extensive experience and dedication to customer satisfaction, we are here to guide you through the process of selecting cabinets that will transform your kitchen into a space of beauty and functionality. Discover the cabinets of your dreams at Cabinets Plus and let our experts make your vision a reality.
We can build you the space of your dreams!